indicator
Mountain Fortress of Korea – at "one" with the mountain
Nestled amongst Korea's ubiquitous mountains, mountain fortresses are historical reminders of the strength and stability of Korea's culture and "one-ness" with nature.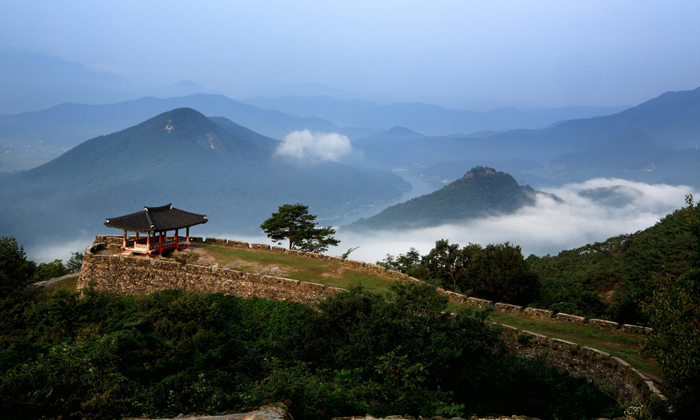 <Geumseong Sanseong (mountain fortress) of Damyang, Jeollanam-do Province, built during the Three Kingdoms Period (57 B.C.-668 A.D.).>
Korea, the land of sanseong
Seventy percent of Korea's land is mountainous, and has more than 5,000 mountain peaks. The streams flowing between mountains were traditionally home to temples that were devoted to worship of the gods as well as to family shrines. Following the stream eventually led to fields, rice paddies, and villages. Mountain peaks overlooking villages always had a fortress ("sanseong" in Korean) for the village's protection. The number of fortresses large and small that have so far been confirmed exceeds 2,000. With new fortresses or their remains being discovered even today, it is no exaggeration to say that each of Korea's mountain peaks has a fortress.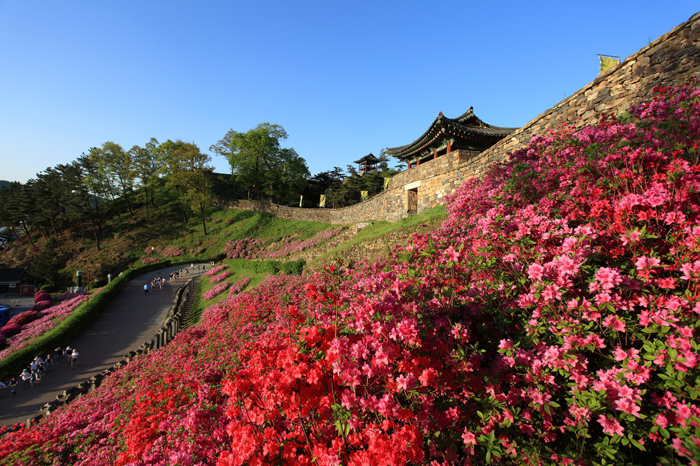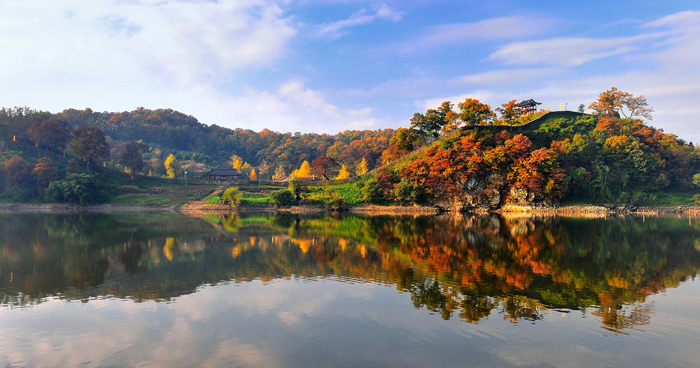 <The beautiful spring (above) and fall (below) landscape of Gongju Sanseong is reflected in the waters of a river.>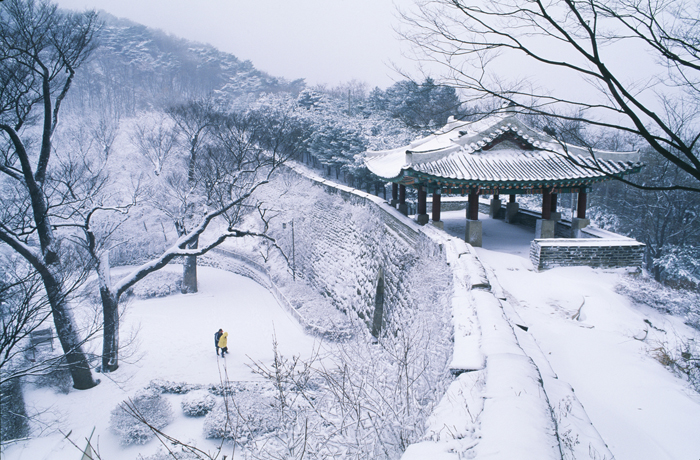 <Lovers enjoy a winter walk through snow-covered Namhan Sanseong (UNESCO World Heritage).>
Korean mountain fortress: at one with the mountain for more than 1,000 years
Korean mountain fortresses were built on particular mountains as protection against foreign attacks and as strategic points for defense of Korea's territory. There are many types of mountain fortress in Korea based on differences in materials, methods, and shapes.

<Ganghwa mountain fortress was built after the Goryeo capital was moved to Ganghwado to escape the Mongol invasions in 13th Century.>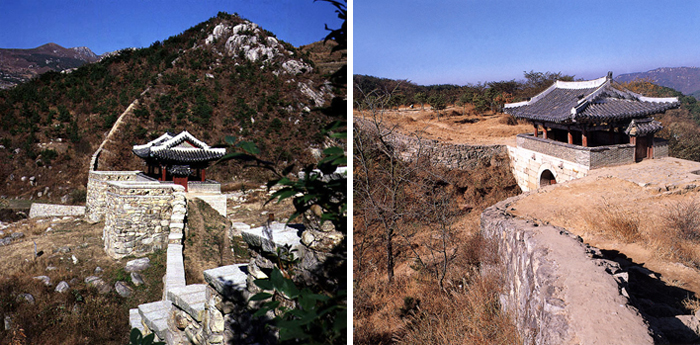 <A view of Busan's Geumjeong mountain fortress (left) and its south gate and a watchtower (right). The fortress dates back to the reign of King Sukjong (1703) of the Joseon Dynasty.>
However, the most significant characteristic of Korean mountain fortress is its minimal artificiality, resulting in fortresses that seem to be at one with the surrounding mountains and geography (peaks, hills and cliffs). Due to this preference, the planar structure of the Korean mountain fortress is highly complex. Rather than taking on a uniform shape like the square, room-shaped fortresses of China or the star-shaped fortresses of Europe in the Middle Ages, Korean mountain fortresses were built to align with the surrounding topography. While most Chinese fortresses are made out of clay, Korean mountain fortresses are mostly made with cut stone. The mountain fortresses built in this manner gradually became a part of the mountain itself, protecting Korea for hundreds of years.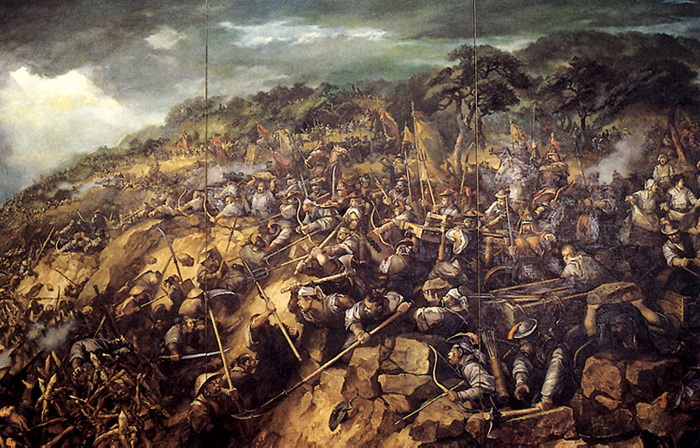 <A painting of the great victory at Haengju, one of the three major victories of the 1592 Imjin Invasions, in which General Kwon Yul engaged in fierce battle. Haengju mountain fortress appears today in Goyang, Gyeonggi-do Province. Although it is unclear exactly when Haengju mountain fortress was built, it seems to have been an earth-built fortress from the Three Kingdoms Period (57 B.C.-668 A.D.). Many artifacts from this era have been discovered here.>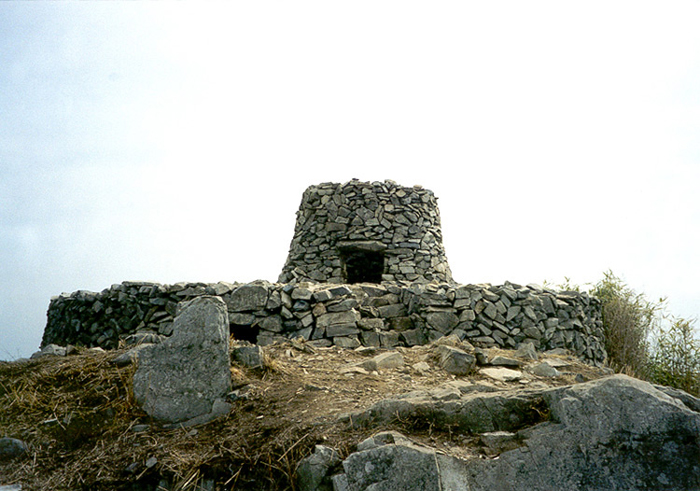 <The Gaksan beacon mound at the apex of Gaksan mountain fortress. The beacon mound is a traditional method of communication that notified others in the area of an emergency through fire and smoke signals.>
Bukhan Sanseong (mountain fortress): an amazing view of the thousand-year capital of Korea
Bukhan mountain fortress is a stone fortress built like a folding screen along several peaks of the Bukhansan mountain range that surrounds Seoul, the capital city during the Joseon Dynasty as well as today. The first mountain fortress to be built on Bukhansan Mountain was over 2,000 years earlier in 132 A.D. by King Gaeru of Baekje. After several extensions and reconstructions in the years that followed, the fortress took on its current appearance in 1711 after a large-scale reconstruction project. The fortress consists of 13 city gates including Daeseomun, Dongbukmun, and Bukmun, and the temporary palaces have a total of 130 rooms and 140 rooms' worth of military storehouses. Within the fortress is the 136-room Jungheungsa Temple, which was built to pray for victory in battle as well as 12 more temples, 99 ponds, and 26 reservoirs. The fortress' total circumference is 12.7 kilometers with approximately 8.4 kilometers of added segments and an area of approximately 660 square meters. Most of the supplementary facilities have been destroyed or no longer exist, but the fortress wall remains mostly intact. Fortunately, renovation on Dongjangdae, Daenammun, Daedongmun, Bogukmun, and the fortress buildings began in 1990. On weekends, tens of thousands of tourists and Seoul residents visit the fortress to walk and relax.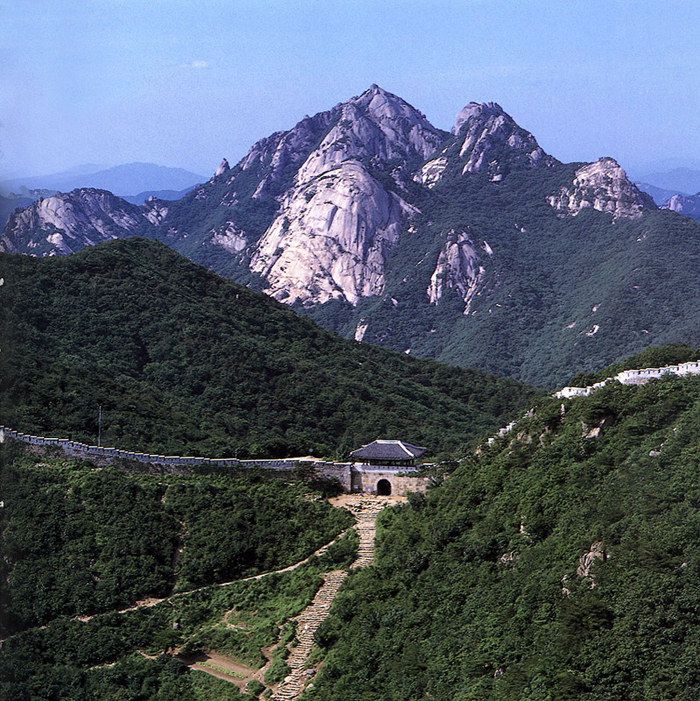 <Bukhan Sanseong (mountain fortress) surrounding Seoul like a folding screen.>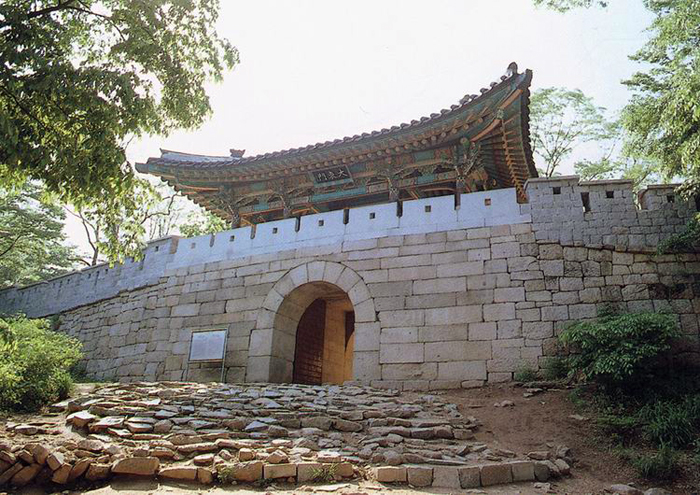 <The renovated Daedongmun gate in Bukhan mountain fortress.>
Those walking along the fortress walls will experience the happiness of discovering beautiful forest paths and streams right in the middle of the most rapidly developing city in Korea. In addition, the terrain is smooth enough so that most anyone can walk along the fortress without special hiking gear. With a landscape that changes with the seasons, it is a particularly scenic walking course in Seoul that provides a wide view of the city including even the Han River. Walking along a structure that has endured for almost 2,000 years, experiencing the history of Seoul and the many stories that make up that history—as many as the tightly stacked stones—is a special joy. When you visit Korea, make sure to take a walk along Bukhan mountain fortress with its beautiful wildflowers, trees, bird songs and breathtaking view of the city. Here you can experience the atmosphere of Seoul's history and the splendor of its changing seasons.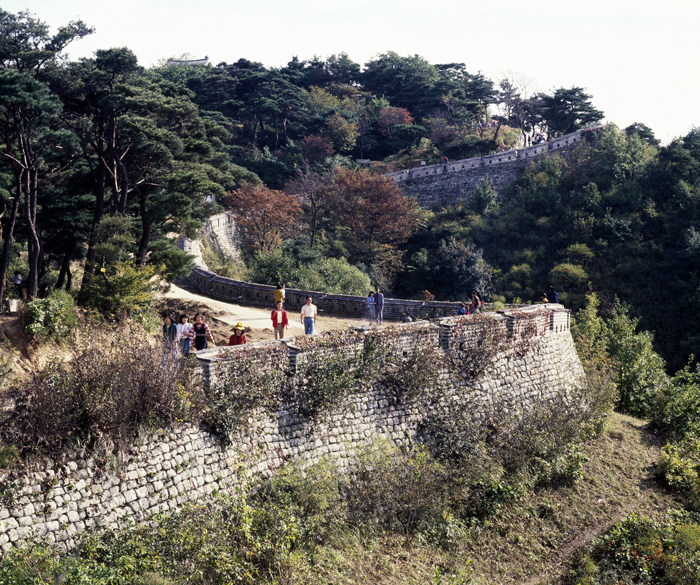 <People enjoying a walk along the fortress wall of Namhan Sanseong.>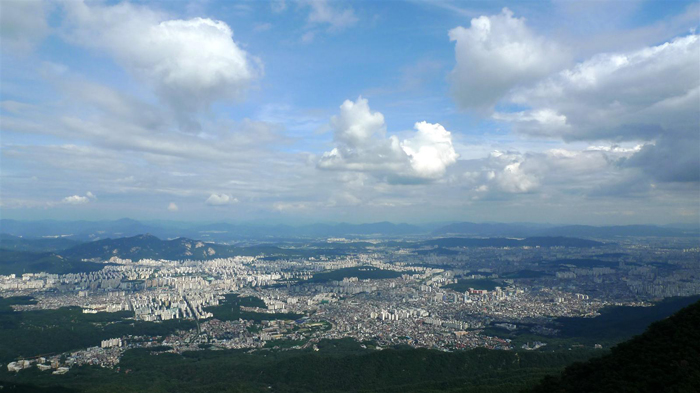 <A view of Seoul from Baekundae, Bukhan mountain fortress.>
* Photos courtesy of Korea Tourism Organization and Cultural Heritage Administration of Korea.